Leena Yadav's Parched is an irresistible beast of a film. As incendiary as it is entertaining, it goes where Indian cinema rarely does without becoming exploitative – into the erogenous fantasies of long-suppressed village women who are no longer willing to countenance their restrictive veils.
It tackles themes that are both elementary and universal – the perils of misguided masculinity, child marriage, domestic violence and the pitfalls that lay in wait of women who seek to express their innermost urges.
The sheer verve that the writer-director packs into her compelling tale of three women and a child bride battling rural India's gender gridlock gives the film a distinctive texture and quality.
arched is provocative and playful, grim and defiant, tender and disquieting all at once. It is, therefore, anything but a dry cinematic tract with feminist messages strewn across its expanse.
In fact, while the film does show a paternalistic panchayat ordering a victim of domestic violence to return her husband's hell hole of a home to protect the honour of the village, it does not point fingers at anybody in particular as much as it does at the community as a whole, the women included.
The meticulously composed frames of Parched are awash with colour and light and its taboo-breaking narrative is imbued with a captivating spirit of emotional and visual abandon.
With the exception of a 15-year-old girl married off against her will, none of the protagonists of this film is an ingenue stumbling through the pangs of growing up and dealing with the first flush of sexuality.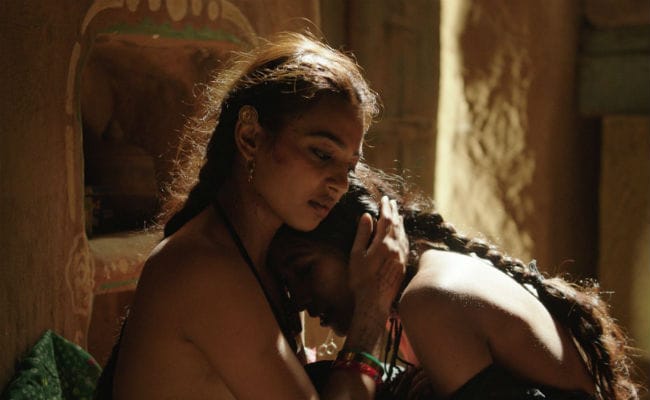 The story is set in a remote, ultra-conservative desert village in Rajasthan where women are treated and traded as chattel. When four of them decide to hit back at the shibboleths of patriarchy, an outbreak of violence, defiance and desperate acts becomes inevitable.
Rani (Tannishtha Chatterjee) is a 32-year-old widow with a wayward teenaged son Gulab (Riddhi Sen) whose early marriage to Janaki (Leher Khan), a girl who is way out of his league, ends in disaster.
Please follow and like us: